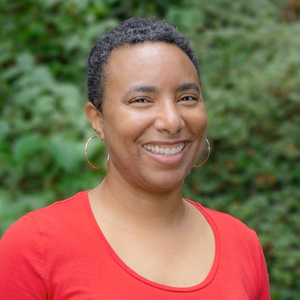 Amanda Mbuvi, Ph.D.
Special guest
Amanda Beckenstein Mbuvi, Ph.D., is vice president for academic affairs at the Reconstructionist Rabbinical College (RRC) outside Philadelphia. Mbuvi (she/her), a scholar of Hebrew Bible, brings to this role a wealth of academic, administrative and nonprofit leadership experience. As a teacher who bridges a wide range of disciplines, she focuses on identity formation and community-building in ways that speak powerfully to the current moment.
Mbuvi oversees all aspects of the rabbinical program: supervising faculty, implementing a new curriculum centering field education, bolstering learning and professional opportunities for students, and increasing diversity among the faculty and students while serving as an ambassador for Reconstructionist Judaism in the wider world.
The accomplished scholar, author and nonprofit leader recalls being drawn to study the Bible because of its vivid stories, rich language and because of the ways ancient texts connect with various streams of her identity. In addition to numerous scholarly articles, Mbuvi is author of the 2016 book, "Belonging in Genesis: Biblical Israel and the Politics of Identity Formation," published by Baylor University Press. She takes an interdisciplinary approach to biblical studies, engaging questions of identity and community that are as present in the biblical text as they are in contemporary society. As a teacher, she introduces students to voices from a wide variety of perspectives, expanding their horizons while also developing their own point of view.
Mbuvi has taught courses in the Hebrew prophets, the Five Books of Moses, Global Perspectives in Biblical interpretation, Women in the Bible, Storytelling and the Sacred, and Introduction to Judaism. In addition to High Point, she has taught at Elon University, Guilford College, Duke University Divinity School, Eastern Baptist Theological Seminary and Renk Theological College in South Sudan.
In addition to her professional accomplishments, Mbuvi has served her local community in a number of ways. She has managed a major adult literacy program in North Carolina, served on the board of Beth David Synagogue and the B'nai Shalom Day School in Greensboro, N.C., and is a former member of the Jewish Community Relations Committee of the Greensboro Jewish Federation. Mbuvi also spearheaded the creation of High Point University's first minor in Jewish studies. She serves on the board of the Society for Jewish Ethics and was a program co-chair for its annual meeting from 2019-2021.
Amanda Mbuvi, Ph.D. has been a guest on 1 episode.
September 10th, 2021 | Season 4 | 33 mins 10 secs

Amanda Mbuvi, Ph.D., is the Reconstructionist Rabbinical College's new vice president for academic affairs. We delve into Mbuvi's desire to deepen how people and communities think about diversity and identity, offer some thoughts on the findings of the Jews Of Color Initiative's latest study and share our hopes for the High Holidays and the coming year.