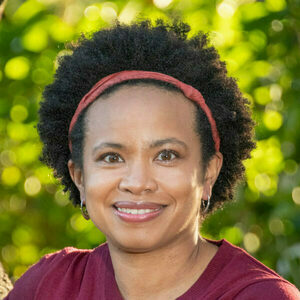 Marcella White Campbell
Special guest
Marcella White Campbell is the Executive Director of Be'chol Lashon, an organization that has advocated for the diversity of the Jewish people for more than 20 years. Previously, Marcella served as Be'chol Lashon's Director of Marketing and Communications.
Before joining Be'chol Lashon, Marcella was a branding and storytelling consultant, guiding clients towards developing clear, innovative, and culturally sensitive content and media. Prior to that, she was a brand and marketing manager and copywriter.
Marcella holds a BA in English from Stanford University and an MA in Literature from SFSU, where she focused on the memoirs of early 20th-century Jewish American women writers and received the Graduate Student Award for Distinguished Achievement. Her writing has been published in numerous outlets, including The Forward, Kveller, Huffington Post, and Jewish&, Be'chol Lashon's online publication that amplifies the voices of ethnically and racially diverse Jews.
Marcella lives in the San Francisco Bay Area with her husband and two children, both of whom are Camp Be'chol Lashon lifers. She is a Board Member of Or Shalom Jewish Community and a Board Member Emeritus of French American International School.
Marcella White Campbell has been a guest on 1 episode.
June 23rd, 2021 | Season 4 | 42 mins 58 secs

Marcella White Campbell is executive director of Be'chol Lashon -- a pioneering organization that strengthens Jewish identity by affirming the racial, ethnic, and cultural diversity of the Jewish people. We discuss her multiracial Jewish family's own experiences as a window into the Jewish community's troubled record in welcoming Jews of Color. She reflects on her own growth into leadership, motivated by the rising cohort of young Jews of Color who deserve a Jewish community where they can thrive and contribute. And she reflects on the rich interplay of her Jewish and Black identities in making meaning at a time of personal loss. Join us for a rich and deeply moving conversation.