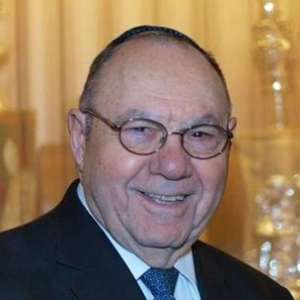 Rabbi Phillip Lazowski
Special guest
Dr. Philip Lazowski, Rabbi, was born in 1930 near Vilna in Bielice, Poland (now Belarus). He arrived in Brooklyn, New York in 1947 after surviving the Holocaust by hiding for almost 3 years in the White Russian woods.
He received his Bachelor of Religious Education from the Teachers Institute of Yeshiva University in 1955, his Bachelor of Arts Degree from Brooklyn College in 1956 and his Master of Science Degree from Yeshiva University's Graduate School of Education in 1960. He was ordained as Rabbi by the Academy of Higher Jewish Learning in 1962 and awarded his Doctorate of Jewish Literature from Jewish Teachers Seminary and People's University in 1970. He was awarded his Doctorate by the Jewish Theological Seminary in 1985. He is also licensed permanently as a Hebrew School principal.
Rabbi Lazowski served as Spiritual Leader of Congregation Beth Shalom from 1955-1969 and continued in that position at Beth Hillel Synagogue from 1969 to 2000. He is now Rabbi Emeritus at Beth Hillel Synagogue. He is a member and Past President of the Education Council of Greater Hartford and the Educators Assembly of Connecticut, as well as being a member and Past Chairman of both the Rabbinical Fellowship and the Bloomfield Clergy. He has ministered as Chaplain at The Institute of Living for the past 18 years and for the past 25 years as Chaplain for the Hartford Police. He is also Chaplain of the Connecticut State Senate.
He has taught Modern Hebrew at the University of Hartford and serves on the Board of Visitors at its Maurice Greenberg Center of Judaic Studies. Rabbi Lazowski also holds memberships in the Rabbinical Assembly of Connecticut and the United States, the Educators Assembly of the United States and Canada, the American Association of Jewish Educators, the Bloomfield Commission on Aging, and the Bloomfield Interfaith Homes. He serves on the Boards of the Greater Hartford Jewish Federation, the Hartford Jewish Community Center, and the Solomon Schechter Day School in West Hartford.
Rabbi Lazowski has authored and published six books:
Rediscovering the Prayerbook: The Daily Service
A Home Guide to Jewish Rituals, Holidays, and Prayer
From the Depths to Redemption: A Passover Haggadah
The Power of Faith: A Reflection
Faith and Destiny
Understanding Your Neighbor's Faith
He is married to Ruth (Rabinowitz) Lazowski, and they reside in Bloomfield, Connecticut. They are blessed with three sons, Barry, Alan and David; their wives Cynthia, Marcia and Dana and their seven grandchildren.
Rabbi Phillip Lazowski has been a guest on 1 episode.
April 10th, 2018 | Season 1 | 44 mins 44 secs

In this special extended episode for Yom HaShoah (Holocaust Remembrance Day), we hear from Rabbi Phillip Lazowski, who survived the Holocaust as a child. He shares experiences that shaped his vision and sense of purpose: amidst horror and loss, episodes of hope and humanity.