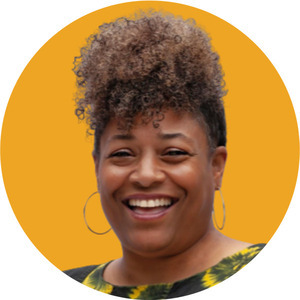 Shahanna McKinney-Baldon
Special guest
Shahanna McKinney-Baldon, M.Ed is a member of Reconstructing Judaism's Board of Governors and co-chairs its Tikkun Olam Commision. She is the Founding Executive Director at Edot Midwest Regional Jewish Diversity and Racial Justice Collaborative. She also holds several appointments at University of Wisconsin-Madison Wisconsin Center for Education Research (WCER), including Special Assistant for Diversity and Inclusion; Evaluation Implementation Specialist at Wisconsin Evaluation Collaborative (WEC); WCER Clinical Program mentor; and trainer/curriculum writer with fairplaygame.org, a video game-based simulation that teaches about racism in graduate-level STEMM (Science, Technology, Engineering, Mathematics, Medicine) education.
She also serves as Co-Director for Tiyuv, an evaluation group focused on Jews of Color-led, culturally responsive evaluation of community racial justice initiatives. A longtime national thought leader on racial and ethnic diversity in the Jewish community, Shahanna has held leadership roles in Jewish organizations and in public education. She has also led local, regional, and national work on diversity, equity, and inclusion (DEI), including directing professional learning for the Minority Student Achievement Network, a national consortium of public school districts working to end racial achievement and opportunity gaps. Shahanna holds a B.S. in Secondary Education, with concentrations in Hebrew and Communications, from University of Wisconsin-Madison and an M.Ed. in Student Services, with a concentration in Social Justice Education, from University of Massachusetts-Amherst. Shahanna comes from a large Midwest US African American and Ashkenazi family with Seminole, Cherokee, Blackfoot, and Sephardi roots. She lives in Wisconsin with her family.
Shahanna McKinney-Baldon has been a guest on 1 episode.
May 5th, 2022 | Season 4 | 39 mins 52 secs

Reconstructing Judaism board member and Tikkun Olam Commission co-chair Shahanna McKinney-Baldon opens up with Rabbi Deborah Waxman, Ph.D. and Rabbi Sandra Lawson about her time fronting the ska and reggae band Highball Holiday. She talks about how she rediscovered her singing voice in middle age and shedded certain inhibitions and self-consciousness. She also describes Reconstructing Judaism's ongoing process of gaining support for a movement-wide resolution supporting reparations for slavery.