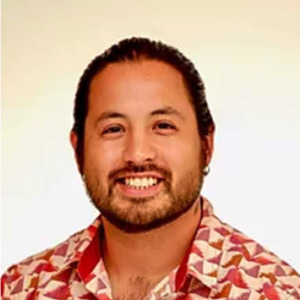 Yoshi Silverstein
Special guest
Yoshi Silverstein is a Chinese-Ashkenazi-American Jew and an educator, coach, speaker, husband, and father. Prior to founding Mitsui Collective, Yoshi was Director of the JOFEE Fellowship at Hazon from its launch through its first four cohorts, through which he catalyzed the growth and leadership of over 60 emerging professionals working across the US and Canada in the realm of Jewish relationship to land, food, culture, climate, and community. He holds over two decades of experience in both Jewish and secular outdoor, food, farming, and environmental education — including time working at the Teva Center (CT), Kayam Farm at the Pearlstone Center (MD), Camp Wise (OH), and Camp Solomon Schechter (WA). Yoshi earned his Masters Degree in Landscape Architecture at University of Maryland with a thesis focusing on landscape journey and experience in Jewish outdoor learning environments.
As JOFEE Fellowship Director, Yoshi built and launched the program and managed an annual program budget of over $1 million. He served as crafter, faculty, and lead facilitator for the Fellowship's immersive seminars, developed and strengthened field-wide pedagogy and professional practice that has accelerated the velocity of both best practice and emerging leadership in the field of Jewish Outdoor, Food / Farming & Environmental Education.
Yoshi is an active leader, advocate, and educator in the Jews of Color community, is the Cleveland Community Organizer for Edot HaMidwest: The Midwest Regional Jewish Diversity Collaborative, and speaks regularly on diversity, equity, and inclusion. He was a key driver of the emergent and responsive shift within the JOFEE field towards a significantly re-centered focus on diversity, equity, and inclusion (DEI) that manifested most strongly at the 2019 JOFEE Network Gathering (JNG) which brought DEI to the core of the annual gathering's purpose and themes and brought a fourfold increase in JOC representation from any prior year.
Yoshi is a member of the Grants Advisory Group for the Jews of Color Initiative; is an alumnus of the Selah Leadership Program (Cohort 14, Jewish Leaders of Color) through Bend the Arc and current member of the Selah Advisory Council; was a founding member of the Repair the World NYC Advisory Board; and has been a cast member of Kaleidoscope Project's "What Does Jewish Look Like to You" monologue series, an ELI Talks speaker, and a Dorot Fellow. Yoshi holds certificates in Spiritual Entrepreneurship (Columbia Business School through Glean Network), social entrepreneurship (PresenTense NYC – now part of UpStart), permaculture design and ecovillage design (Kibbutz Lotan Center for Creative Ecology), and environmental education (McCall Outdoor Science School, University of Idaho). Also a CrossFit coach and movement teacher, 2nd degree blackbelt, and aficionado of Chinese Roast Duck, Yoshi now lives in the Cleveland area with his wife, daughter, and pup.
Yoshi Silverstein has been a guest on 1 episode.
May 21st, 2020 | Season 3 | 31 mins 24 secs

Yoshi Silverstein's passions — which include Jewish outdoor and environmental education, as well as fitness and movement — each strive toward creative embodied Jewish practice. We explore how these approaches can contribute to a resilient Jewish community, and conclude by applying them to the upcoming holiday of Shavuot: how might they help us experience revelation and gratitude in the midst of an uncertain future?