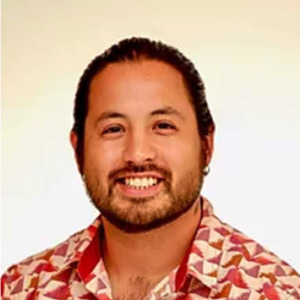 Yoshi Silverstein
Special guest
Yoshi Silverstein (he/him) is a Chinese-Ashkenazi-American Jew and an educator, designer, speaker, husband, and father. A multidisciplinary practitioner of embodied creative and spiritual expression, he is a recipient of the 2022 Pomegranate Prize for emerging leaders in Jewish education from the Covenant Foundation, and was selected as a 2021 "Grist 50 Fixer" building a more just and equitable future. Yoshi earned his Masters Degree in Landscape Architecture at University of Maryland with a thesis exploring Jewish landscape journey and experience, and holds certificates in spiritual entrepreneurship, social entrepreneurship, permaculture design, and environmental education. Yoshi sits on the Board of Directors for Repair the World as program committee chair, and is Cleveland community organizer for Edot: The Midwest Regional Jewish Diversity and Racial Justice Collaborative. An adjunct faculty instructor at Reconstructionist Rabbinical College and program faculty at M² Institute for Experiential Jewish Education, Cornerstone Seminar (Foundation for Jewish Camp), Institute for Jewish Spirituality, and Avodah's Institute for Social Change, Yoshi is also a Senior Schusterman Fellow, and is a student of Resmaa Menakem in the areas of embodied antiracism and somatic abolitionism
Prior to founding Mitsui Collective, Yoshi utilized his two+ decades of experience in both Jewish and secular outdoor, food, farming, and environmental education as Director of the JOFEE Fellowship at Hazon from its launch through its first four cohorts, through which he catalyzed the growth and leadership of over 60 emerging professionals working across the US and Canada in the realm of Jewish relationship to land, food, culture, climate, and community. Yoshi is an alumnus of M² Institute for Experiential Jewish Education's inaugural Jewish Pedagogies Circle, of the Selah Leadership Program (Cohort 14, Jewish Leaders of Color) through Bend the Arc and current member of the Selah Advisory Council, was a founding member of the Repair the World NYC Advisory Board; and has been a cast member of Kaleidoscope Project's "What Does Jewish Look Like to You" monologue series, an ELI Talks speaker, and a Dorot Fellow. He holds a 2nd degree blackbelt in Lotus Kajukenbo, and is an avid aficionado of Chinese Roast Duck.
Yoshi lives in the Cleveland area in Shaker Heights, OH on Erie, Mississauga, and Haudenosaunee land with his wife and daughter.
Yoshi Silverstein has been a guest on 2 episodes.
October 24th, 2023 | Season 5 | 59 mins 34 secs

box breathing, embodied practice, embodiment, israel, jewish, judaism, resilience, trauma, viktor frankl

Yoshi Silverstein, founder and director of the Mitsui Collective, explains that in difficult times like these, embodiment practices can help us understand and name the extent to which strong emotions are having an impact on us. The key to being able to respond to stressful stimuli in a healthy way? Awareness and practice, practice practice.

May 21st, 2020 | Season 3 | 31 mins 24 secs

Yoshi Silverstein's passions — which include Jewish outdoor and environmental education, as well as fitness and movement — each strive toward creative embodied Jewish practice. We explore how these approaches can contribute to a resilient Jewish community, and conclude by applying them to the upcoming holiday of Shavuot: how might they help us experience revelation and gratitude in the midst of an uncertain future?