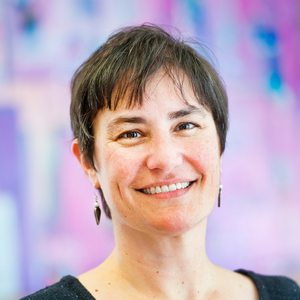 Rabbi Deborah Waxman, Ph.D.
Co-Host of Hashivenu
The first woman rabbi to head a Jewish congregational union and a Jewish seminary, Rabbi Deborah Waxman, Ph.D., became president of the organization now known as Reconstructing Judaism in 2014. Since then, as president and CEO, she has drawn on her training as a rabbi and historian to be the Reconstructionist movement's leading voice in the public square.
Rabbi Deborah Waxman, Ph.D. has hosted 51 Episodes.
September 29th, 2017 | Season 1 | 26 mins 15 secs

humor

The upcoming holiday of Sukkot is known as z'man simkhateynu, the season of our joy. In keeping with that theme, Rabbi Seth Goldstein joins us for a special episode on humor. Whether opening us to laughter and joy, or easing the way in difficult times, humor can be a powerful path toward resilience.

September 5th, 2017 | Season 1 | 26 mins 25 secs

forgiveness, teshuvah

As the High Holiday season approaches, Jewish people across the world begin to reflect on their behavior of the past year. They wonder: what does it mean to forgive? What does it mean to seek forgiveness? In a conversation with Rabbi Vivie Mayer, we explore the complexities of teshuvah (repentance) and ways to seek it as the Jewish new year approaches and throughout the year.

August 10th, 2017 | Season 1 | 22 mins 37 secs

shabbat

In this episode, Rabbi Jacob Staub, Ph.D., talks about one of the deepest and best known of Jewish practices, Shabbat. We read about this ancient practice in Genesis, with God creating the world in six days and then resting on the seventh—and from that, we get the concept of a day of rest. Rabbi Staub is a professor of Jewish philosophy and spirituality at the Reconstructionist Rabbinical College. He's written widely on many topics, including a beautiful extended chapter on the Jewish Sabbath in "A Guide to Jewish Practice," published by the RRC Press.